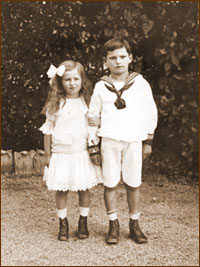 Sonia Wachstein, a teacher, social worker, psychotherapist, and friend of refugees, who fled her native Austria in 1938 after the Nazi occupation, died at home on August 10, 2001 in her Greenwich Village apartment. She was 93. The cause was lung cancer.
Dr. Wachstein was born in Vienna in 1907, the second child of Marie and Bernhard Wachstein. Her father was a historian with a doctorate in philosophy and Near Eastern studies who became the Director of the Jewish Community Library in Vienna and the author of several scholarly works on the inscriptions of tombstones in Jewish cemeteries in Austria. His description of the Jewish Cemetery in Vienna was so detailed that it was used to restore the cemetery after its desecration by the Nazis.
Dr. Wachstein's experiences of anti-Semitism and growing up Jewish in pre-WW II Vienna are documented in her autobiography Too Deep Were Our Roots: A Viennese Jewish memoir of the years between the two world wars, tb be published in October 2001. By adolescence, she had become involved in the socialist youth movement and remained politically active and passionately interested in human and animal rights until her death. She was a vegetarian.
Dr. Wachstein was also an enthusiastic lover of the arts. After graduating from the Reformrealgymnasium for Girls, she enrolled in the University of Vienna and concurrently acted professionally for one year. She received her doctorate in English and German studies in 1932 and then taught English for five years at the Chajes Gymnasium, the only Jewish secondary school in Austria. She was an inspiring teacher who remained close to her students and was the only teacher to attend their 1992 reunion in Vienna
After the annexation of Austria by Germany in March of 1938, the Social Democratic Party was outlawed and an illegal political party, the Revolutionary Socialists, was formed. Dr. Wachstein attended meetings and secretly hid Schutzbund fighters in her parents' home. When the Chajes Gymnasium was closed and her brother Max, a physician, was arrested and sent to Dachau, she managed to emigrate to England.
At that time refugees were not allowed to work except in domestic service, but an exception was made in Dr. Wachstein's case because of the urgent need to teach English to German-speaking refugees. One of her pupils was Shmul Ziegelbojm, a prominent leader of the Polish Jewish Socialist Bund who committed suicide after failing to convince Churchill and Roosevelt that the European Jews were doomed without government intervention. She also cared for children arriving in England from Nazi Germany and Austria through the "Kindertransport." She remained in England until 1944, teaching at a school sponsored by the Jewish Refugee Committee.
In 1944, she left England to join her family in the U.S. She again faced the difficulties of a newly arrived immigrant but managed to support herself by teaching German at Vassar College, Brooklyn College, and NYU before deciding to study psychiatric social work, a field that had long interested her. She graduated from the School of Social Work at Bryn Mawr College in 1947. From 1952 until her retirement in 1977, she worked as a social worker for the Bureau of Child Guidance at the Board of Education and was the author of a number of articles about emotional disturbance in children. During a sabbatical year in 1965, she taught as a Fulbright Professor in Lima, Peru. Dr. Wachstein also maintained a private psychotherapy practice until age 90, working primarily with adult patients who could not afford the high cost of psychotherapy.
When Dr. Wachstein became legally blind as the result of macular degeneration, she was forced to give up painting, another lifelong passion, but she continued to travel extensively. She spoke five languages. A frugal individual, she enjoyed traveling cheaply, going so far as to hitchhike across the Dominican Republic in the back of a pig truck. She was in her 70's at the time.
Until she became ill in the spring of 2001, Dr. Wachstein was teaching English to Russian immigrants, auditing courses at the New School, and working on a series of autobiographical short stories. She is survived by three nieces: Muki Wachstein Fairchild of Durham, North Carolina, Monica Wachstein-Schmid of Stuttgart, Germany, and Anna Clement of London, England.
A funeral service was held at the Gramercy Park Memorial Chapel on Tuesday, August 14th at 11:30 AM.